Starting School
Starting school is a very special time in a young child's life. We all want to see our childen happy and settled and a good start at school is important for long term social and educational benefits. At St Margaret's School we do everything possible to help our Reception chidren settle in happily.
Here are just a few things we do to help the transition of pre-school to reception flow smoothly:
We host a meeting in June for all parents/carers to meet the class teacher and the Reception team, learning more about what it's like to be in Reception at St Margaret's.
We offer a Stay and Play session for parents/carers to attend with their child.
A short story session in a small group
A home visit for class teachers to meet your child in their own, familiar environment.
The following points are just a few things you can do at home to support your childs transition from pre-school to Year R:
Dressing and Undressing themselves
Put socks and tights on
Put shoes on correct feet
Put coat on and begin to do up zip
Hang coat up by the hook
Using the Toilet
Go to the toilet by themselves
Boys be familiar with a urinal
Wipe own bottom
Wash and dry hands
Lunch time
Eating with good table manners
Using a knife and fork
Sharing and taking turns
Sharing toys and being prepared to take turns
Work together to tidy up toys and understand we put toys back where they belong
Saying please and thank you
Understand simple rules
Look after their own belongings
Skills needed to help in the classroom
Holding pencils, crayons and brushes with correct grip
Handling scissors safely and cutting with 'thumbs up'
Being able to sit quietly and listen for short periods of time
Being able to recognise their own name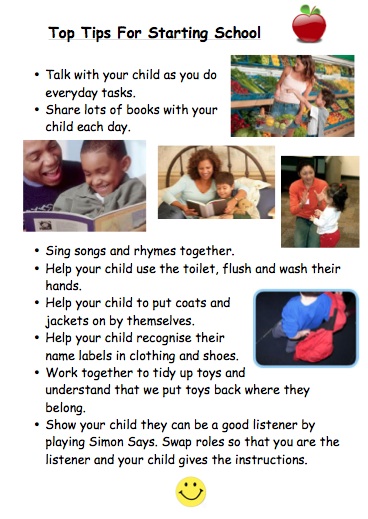 A Prayer for Starting School
Dear God,
I am starting school today,
Please help me to learn and play.
Help me to be kind and share
And make friends who care.
Be with me on my first day,
Amen.