Reading
Every Child a Reader

Intent
At St. Margaret's we are passionate about reading.
Being able to read well matters. It can significantly impact on success in school and beyond. It takes them into imagined worlds far beyond their own experience, and make possible endless opportunities to explore new areas of learning, thinking and ideas. The power of reading is immense, and we want children to be able to take full advantage of the benefits, pleasure and enjoyment that it has to offer. We aim to develop positive attitudes towards reading so every child thinks of themselves as a reader and has fostered a love of the written word in all its various forms. We wish to create a community of readers that share, enjoy and promote reading as a skill and desirable past time.
Implementation
We teach reading in a variety of ways at St. Margaret's School; this includes but is not limited to, carousel teaching, whole class, close text analysis, discreet phonics teaching, shared peer and 1:1 reading. Furthermore all classes have texts read to them throughout the year. This helps to promote reading as a desirable past time and something that should be valued and treasured.
Reading to the Children
Our goal is to motivate children to want to read so they will practice reading independently and, thus, become fluent readers. That happens when children enjoy reading. As parents and teachers we can do for reading what fast food chains do for hamburgers? ADVERTISE! And we advertise by reading great stories and poems to children. At the end of every school day, the class teachers will read and share high quality texts to your children at a level which is beyond their reading age. This ensures that we continue to develop their vocabulary and understanding of characters and plot far beyond their reading level. It also gives them access to worlds and experiences different to their own. In this time, we also revisit favourite texts chosen from our high quality book lists.
We can help our children find the tools they need to succeed in life. Having access to information through the printed word is an absolute necessity. Knowledge is power, and books are full of it. But reading is more than just a practical tool. Through books we can enrich our minds; we can also relax and enjoy some precious leisure moments.
With our help, your children can begin a lifelong relationship with the printed word, so they grow into adults who read easily and frequently whether for business, knowledge, or pleasure.
Reading Vipers
At St. Margaret's, Reading VIPERS are used to support children with their reading comprehension skills. VIPERS are a range of reading prompts based on the 2016 reading Content Domain Areas (CDAs) found in the National Curriculum Test Framework. Each classroom will have the Reading VIPERS displayed in the reading area of their classroom and the class teacher will make explicit links to the skill the children will be learning about. This gives all children across the school a common language to discuss their reading knowledge and understanding.
All children will be working on VIPERS during class reading, whether it is reading as a class, in a small group, or one-to-one with an adult. It would be fantastic if parents could also be referring to VIPERS when they listen to their child read at home.
During guided reading sessions, children will rotate around a series of reading activities which focus on the content domain areas. They will be listened to by an adult twice a week, with follow up comprehension and vocabulary tasks. The sessions are organised as follows:
Early Readers (Reception, Year 1)
Children will be split into very small groups of 1, 2 or 3 children based on their reading stage and ability. This is possible when reading is taught in conjunction with a split playtime. Each group of children will be taught by the teacher, TA and usually a second adult (TA/Parent helper) over the course of the week (3 out of 5 sessions). During the remaining two reading sessions, the children will be learning independently, focused on phonics reading games / activities appropriate to the phonics stage in which they are securely working. As children's reading skills become more developed, they may move onto reading linked to a 'Big Question' where they talk with a partner about an area of learning linked to reading VIPERs. This may be recorded by an adult onto stickers but there is no expectation for children to be recording their own answers in Nursery, Year R or Year 1.
Developing Readers (Year 2, Year 3)
Children will be split into five groups. They will complete two independent reading tasks each week, which require a written response and focus upon comprehension using the VIPERS approach. They will have one session in which they are able to read for pleasure (linked to a VIPER) and two sessions of focused adult support time with both the teacher and then teaching assistant to teach reading strategies and collect detailed evidence to inform next steps.
Fluent Readers (Year 4, Year 5, Year 6)
The children will have five activities throughout the week, which they will rotate around. The children will have a pre-task which focuses on one or more VIPERS reading domain. This will have the dual purpose of children reading and absorbing the text, as well as orally rehearsing answers to key questions linked to a VIPERS focus. They will then work with a teacher to discuss the key questions and unknown vocabulary that has arisen from their reading. A follow up task will use the same big questions so that children can formally record their answer. The independent learning tasks will focus on the remaining VIPERS.
Question Openers
VIPERS can be used on any text that a child is reading, as well as on pictures, picture books and films! When any adult is listening to a child read, all they have to do is think of questions about the book/picture/film that cover all of the VIPERS, and there are great examples below of how you can create your own questions using the following question openers.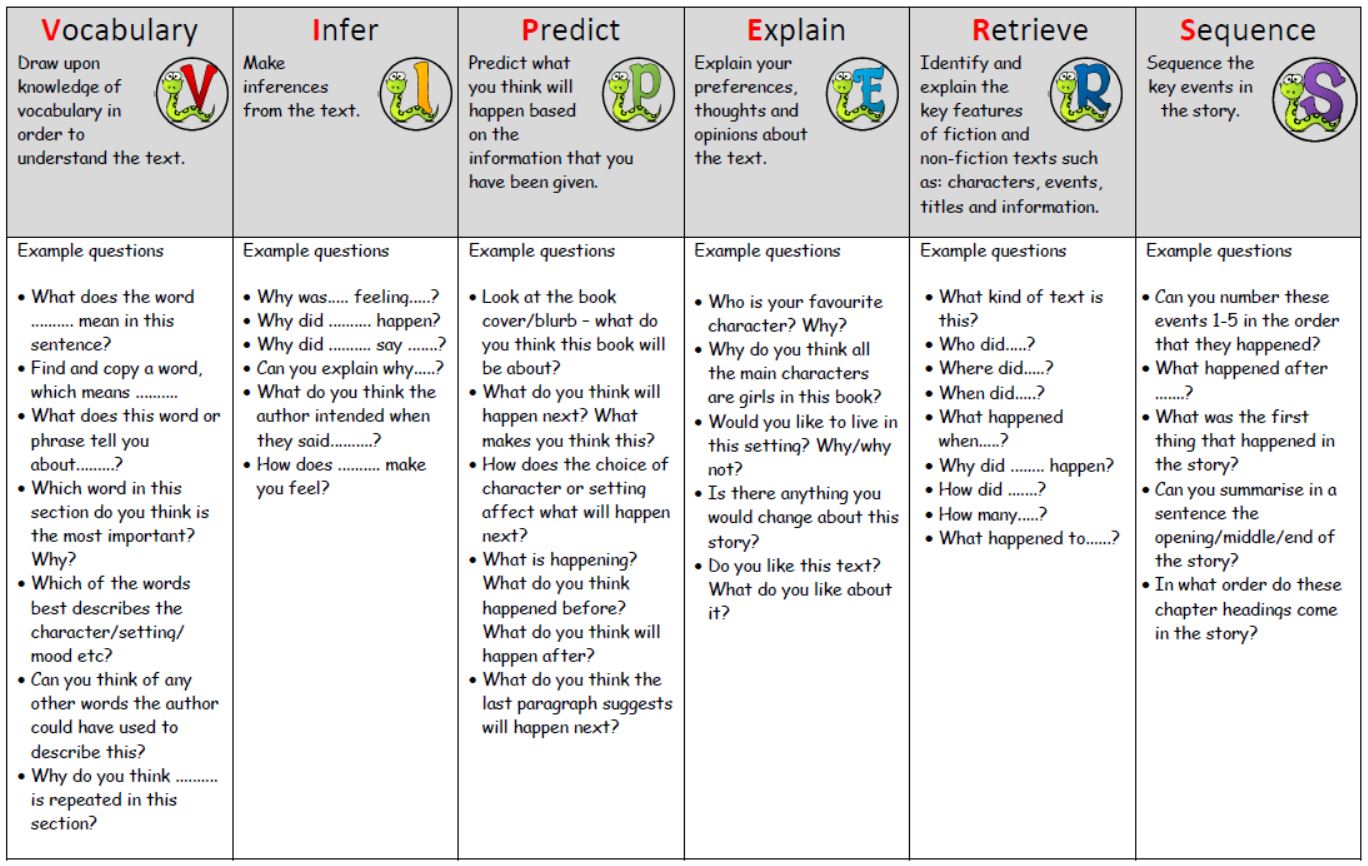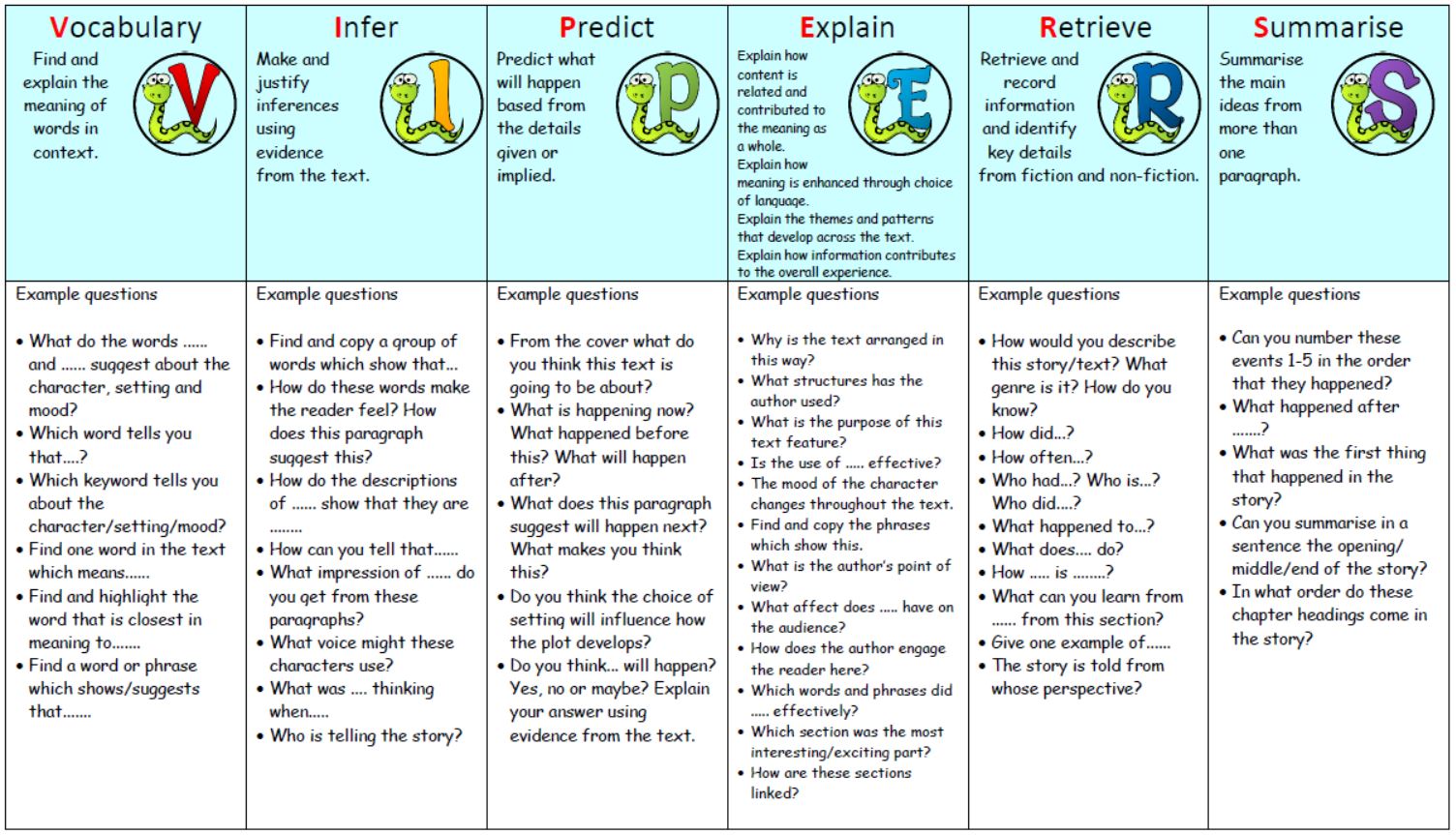 Impact
The impact of our reading curriculum can be clearly seen across the school through children talking about their love of reading, the quality of texts the children are reading, the quality of teaching across the school and the commitment to reading within the wider community which is evident in our hugely popular reading events and reading volunteer programme. Phonics data is above national average and county results. For 2019, Key Stage 1 results show that data is above national and county averages in reading. KS2 reading results are rising over time.
Useful Links

http://www.wordsforlife.org.uk/
https://www.phonicsplay.co.uk/